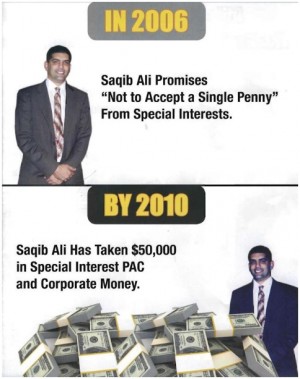 UPDATE: We reached out to both campaigns for their reactions. Here is a statement from the King campaign and here's a response from Saqib Ali.
.
We're in the thick of campaign season and while I tend to focus on the Mayoral race or candidates with confusing names here in the District, last night I saw something eye-catching from Maryland, where State Delegate Saqib Ali is challenging State Senator Nancy King to represent the 39th district.
What you see to the right is a mailer that King sent out to potential voters about Ali. I saw it and had flashbacks to O.J. Simpson's infamous mug shot, on the cover of Time magazine. I thought of that moment in magazine history because of the striking change in Ali's complexion. Now, it is entirely possible that in four years, Saqib Ali got some sun. Also possible? That whoever designed this flier used the same photograph, but flipped it directionally, recolored the suit…and Saqib's face. There's only one way to find out– I just reached out to the King campaign for comment.
Meanwhile, Sam Arora, another tanned, exotic-looking candidate for Maryland public office who grew up in the state had this to say about the campaign literature:
Frankly, I am surprised and disappointed to see a tactic like this attempted in Montgomery County—a wonderfully diverse and progressive area.  I don't want to believe that a Democratic state senator would sign off of something like that.
Developing…