Malcolm X or Meridian Hill Park: On Symbolism And Accuracy
D.C.'s big, popular park off of 16th Street NW has two names. Sort of. Some (including the National Park Service) call it Meridian Hill Park, while others (including many residents) call it Malcolm X Park.
There was a move to rename the park in the aftermath of the 1968 riots, but Congress rejected that proposal. Many still call it Malcolm X Park. Earlier this week, we asked our readers what they call the park, and why. Here are the results thus far from our poll, showing a split of opinion slightly in favor of Meridian Hill Park: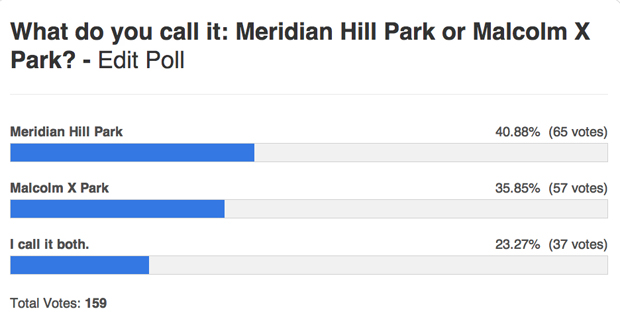 A number of you weighed in further, both on Twitter and in the comments section. For some, calling the park Malcolm X is a symbolic gesture, having to do with D.C. self-determination and also pushing back a mostly-white Congress rejecting a proposal from a black city.
Ms. T wrote:
As a life long citizen of DC, having survived the '68 riots I have known it as both Meridian Hill and Malcolm X Park. However, I prefer Malcolm because during the years immediately following the riots it became a cultural meeting place for the city's Black residents who had the consciousness of mind to plan and strategize ways to hold our communities together; to serve, educate and uplift a group of people who had just lost their champion for justice. How fitting that when one man of vision has fallen, another would symbolically rise in his place to as a sanctuary of vision and hope. [sic]
Others pushed that Meridian Hill Park is the most accurate name, and that Malcolm X had no significant connection to the park.
Adam L made this point:
It's Meridian Hill Park. A proposal came before Congress in 1968 and it failed. End of story. A proposal came before Congress to refer to 16th Street as "Ronald Reagan Boulevard" but it too (thankfully) failed. Still, you don't see street signs that name the road after the 40th President.
Anyway, we'll keep the poll open for a little while longer, so cast your vote if you haven't already.