D.C.-Area Gets Blacker While City Gets Whiter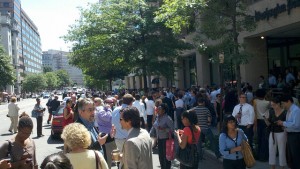 Stacey Huggins / Flickr
D.C. is losing its black population. For more than five decades, the District has been Chocolate City, a place where African Americans were the majority. But that's changed — this year, the black population likely dipped under the 50-percent mark. At the same time, the city's white population has grown; the percentage of white folks living in the city is the highest it's been since Nixon was in office [PDF]. Some neighborhoods that were nearly all black now have more of a mix; others, like just north of U Street, went from mostly black to mostly white.
Some have declared that the chocolate has melted. Perhaps, but it's not going far.
A report released Wednesday by the Brookings Institute shows that while our city's black population has decreased, our region's black population has actually increased over the past decade, up by 12.4 percent.  And our metro area is one of only three in the nation where African Americans make up the single largest racial group, after whites. Even the New York City area, which still has the nation's largest black population, has Hispanics as its largest group, after whites.
Why are there less black folks in D.C? Some observers point to the rising cost of living in "up-and-coming" and gentrifying neighborhoods, areas where black residents have been displaced by high rents or have sold their now-pricey homes. Some black residents, particularly those from communities east of the Anacostia River, left for the suburbs, for bigger houses, safer streets and better schools. These factors (and others) have contributed to making our suburbs blacker, while our city has gotten whiter.
For the first time this year, our region joins 21 other metro areas in the country as "majority-minority," places where whites don't make up the majority of the population. The thing is, D.C. proper has fit that description for some time, and it still does. But for how long?
This post originally stated that African Americans were the D.C.-metro area's largest racial group. It's non-Hispanic whites.