Is Anacostia Being Gentrified?
The word "gentrification" elicits certain images, particularly in D.C: dog parks, coffee shops and bike lanes. But the mere presence of such things doesn't mean residents are being displaced.
The Washington Post tried to also dispel another stereotypical marker of gentrification –  white people — by profiling a group of middle and upper income African Americans who have moved into (or back) to Anacostia:
"I used to think it was about race — when white people moved into a black neighborhood," said lawyer Charles Wilson, 35, president of the Historic Anacostia Block Association. (Wilson ran against Marion S. Barry Jr. in the 2008 Ward 8 City Council race.) "Then, I looked up the word. It's when a middle-class person moves into a poor neighborhood, and I realized, I am a gentrifier. I couldn't believe it. I don't like that word. It makes so many people uncomfortable. The g-word."

"Actually, I thought it was if you see a white guy in Anacostia, listening to an iPod, jogging or walking a dog!" joked Sariane Leigh, putting her hand on her hip and waving a sweet potato fry for emphasis. Leigh, 33, works by day helping low-income communities access education. In her free time, she writes a blog called "Anacostia Yogi," and teaches "Soul Flow Yoga" at the Hillcrest Recreation Center on Denver Avenue in Southeast.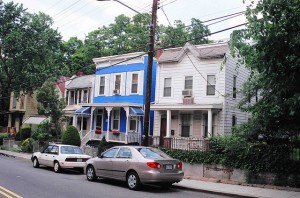 Elvert Barnes / Flickr
These residents chose Anacostia over other neighborhoods because they like living east of the river, and many longtime residents say they are happy to see professional blacks moving into black neighborhoods, the Post reports. Those profiled are active in the community, such as Courtney Davis who published a children's books meant to bolster the image of kids in Ward 8. "I'm fighting for this neighborhood," Davis told the Post. "It still has some work to do. But I'm not here to make a quick buck and run off."
But are these new, wealthier residents making it too expensive for low-income residents to remain in the neighborhood? Typically, gentrification is thought of not just when people with more money move into a working class neighborhood; it's also when that movement raises housing prices and prices out low-income residents. And by-and-large, displacement isn't occurring in communities east of the Anacostia River, according to Roderick Harrison, a Howard University professor and senior fellow at the Joint Center.
"Probably the more appropriate term is 'succession,'" he said. "People have been moving out of wards 7 and 8 because once you can afford to do so, you do. People feel they're improving their lives with moves to Prince George's County."
Ward 8, home to Anacostia, was the only ward that saw a decline in the total number of residents in the past decade. And Harrison, who worked with the U.S. Census Bureau in 2000, said that data indicate most black residents who moved out of wards 7 and 8 back then settled in Prince George's County, as they sought out better schools, safer neighborhoods or bigger houses.
"There might be some literal displacement in Anacostia, but the vacancy rates are such that it's less about some renters get pushed out," he added.
The commercial and residential vacant property rate in Wards 7 and 8 are disproportionately higher than elsewhere. As of May 2011, there were 63 blighted properties in Ward 8 and 52 in Ward 7 [Excel], compared to 22 in Ward 1 and 16 in Ward 4.
If Anacostia becomes increasingly attractive to people of higher incomes — black or white — who then buy up properties, housing values could rise. Building owners may increasingly convert modest apartments into luxury units. Proposed development projects in Anacostia may also make living in there more expensive. Such forces are already in full swing in other parts of the city, such as in Columbia Heights and around U Street.
For now, it seems this small influx of middle and upper income African Americans into Anacostia isn't making it too expensive for low-income residents to remain. It could be the groundwork for gentrification and displacement, or it could never happen at all.