DCPS Bonuses Come With Strings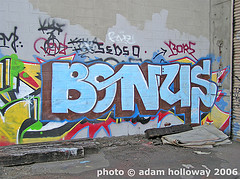 Flickr: Adam Holloway
According to WAMU's Kavitha Cardoza, "Of DCPS Teachers Offered Bonuses, 40 Percent Say: 'No, Thanks'":
One of former D.C. Public Schools Chancellor Michelle Rhee's signature initiatives was to reward good teachers with bonuses of up to $25,000. To qualify for the full amount, teachers have to score high marks on their evaluations, teach at schools with majority low-income children, and teach a tested grade and certain subjects. Bonuses were offered to 636 teachers, but 40 percent turned down the money…
I read this and immediately wondered why anyone would turn down extra money right now. Well, because:
But these teachers had to agree to give up some job security. For example, they could lose their jobs because of program changes or enrollment declines at their schools.

Diane Terrell, a teacher at Stoddert Elementary School, refused her $5,000. She says a bonus shouldn't come with strings attached.

"You think you can come and wave money in front of us and we will give up everything to you. I could not do that," she says.

Two teachers were eligible for $25,000, the maximum amount. Both accepted the money.