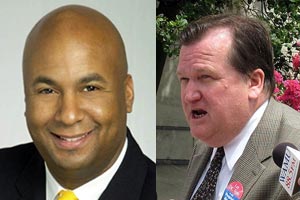 Credit: Michael A. Brown (dccouncil.us)/Michael D. Brown(KCinDC via Wikimedia Commons)
One Black, one White. And one of them seems to be benefiting from voter confusion. TBD has more:
"The strangest storyline of the D.C. Council race continues: little-known Michael D. Brown, one of the District's shadow senators, beat incumbent Phil Mendelson in last night's Ward 5 straw poll, 370 to 250. The victory again raises the specter that Michael D. Brown, who only recently said he might start actively raising campaign funds, might be the beneficiary of mistaken identity — he shares the same name as current councilmember Michael A. Brown."
Current council member Michael A. Brown (the Black one) is not running this year. According to WeLoveDC, Phil Mendelson has resorted to creating fliers detailing the difference between Browns (with a photograph). Here's hoping that voters figure out their Browns, soon.