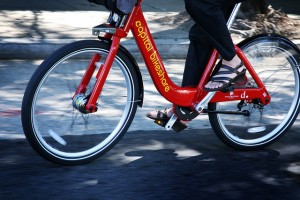 DDOT DC / Flickr
Bike-sharing may be one of the cheapest methods of public transportation in D.C., but you can't use a bike without a credit card. That poses a big challenge in the District, where more than 12 percent of households are unbanked, meaning they don't have access to financial instruments like bank accounts.
D.C.'s Capital Bikeshare launched a program this month to get more people credit cards so they can use the bikes, The Atlantic Cities reports:
Capital Bikeshare partnered with United Bank, the District Government Employees Federal Credit Union, and Bank on DC, a collaborative between the city, local financial institutions and non-profits working to provide greater access to financial products in the District. Residents can open a Bank on DC account with none of the minimum balances or monthly fees that frequently serve as an obstacle.

Through Bank on DC, Capital Bikeshare will offer a discounted $50 annual membership to residents who don't currently use a bank but sign up for a debit or credit account through either the District employees credit union or United Bank.
Increasing access to credit cards is only one way to get more low-income people riding. Capital Bikeshare works best when bike stations are clustered together. Stations east of the Anacostia River, in some of the city's poorest neighborhoods, are fewer in number and spread further apart than in wealthier and denser sections of Northwest. But access east of the river is improving; in May, there were nine stations, and now there are 13.