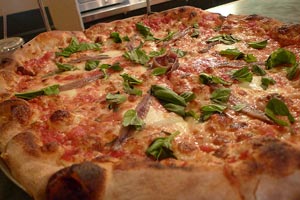 Ron Diggity
Pete's New Haven Style Apizza's second location at "Ten-Frien" (so designated because it's in the middle of the Tenleytown and Friendship Heights Metro stops) was the site of a "Middle Class Task Force" round table this afternoon– and the Vice President was there, meeting employees, calling Nurses "angels" and ordering pizzas to go. See pictures of his visit, here.
As for what was said, here's a snippet from the White House Pool Report (note: "Mehr" is Pete's co-owner, Joel Mehr):
At beginning of roundtable discussion, Mehr told Biden that he and his co-owners have two stores and are getting ready to open a third (great news for lovers of good pizza).

Biden asked Mehr "how in God's name did you get credit?"

Mehr said he went to 20 banks before finding a local one in DC that would give him a loan.
A third location IS good news for apizza-lovers. The having to go to 20 banks to secure credit? Not so good. As for the Vice-President's order, he chose to take one plain and one pepperoni back to 1600 Pennsylvania Avenue.