D.C.'s job market attracts people from around the country, yet sections of D.C. are facing Depression-era unemployment rates. DCentric examined the causes of the jobless disparity in a series of stories last week. If you missed "Division of Labor," check out this breakdown of our five main takeaways: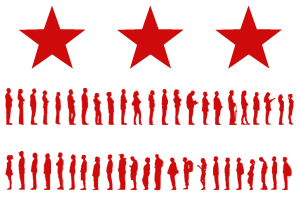 The District is home to stark disparities.
The numbers speak for themselves: unemployment is almost 3 percent in Ward 3, and more than 26 percent in Ward 8; more than half of Ward 3 residents have post-bachelor's degrees, while nearly half of Ward 8 residents only have high school diplomas.
Simply creating more jobs won't be enough to reduce the disparity.

In D.C., the problem isn't that there aren't enough jobs. Many of the available jobs in the District are out of reach for those facing chronic unemployment because of the high qualifications they require.
Getting arrested creates a cycle of unemployment.
It's much harder to get a job if you've been to prison, and that's of particular pertinence in D.C., where one in 10 residents has a criminal record. A number of suggestions have been proposed to make it easier for former offenders to get hired, but the stigma of being a former felon is still difficult to overcome.
Evening out the divide may take decades, but some efforts can be made now.
The solution, some of you have noted, is improving education so D.C.'s young people will be able to compete for the professional jobs. But  improvements to education can take years to accomplish, and in the meantime, there are number of adults suffering from unemployment. D.C. agencies and nonprofit groups are focusing on helping adults in numerous ways, including offering job counseling, providing adult education oand specialized training programs. Although unemployment still remains high, these efforts provide valuable resources to the jobless.
People have hope.
Many of the unemployed interviewed for "Division of Labor" spoke with hope about their futures, despite documented disparities and dim prospects. Communities facing high unemployment are also home to motivated individuals, whether it's the single mother going back to school to get her GED certificate or the teenager who's preparing to go to college.