Aldi Won't Accept Government Subsidy Payments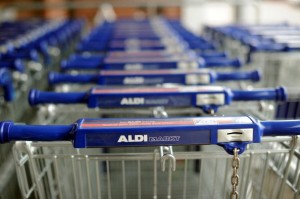 Johannes Eisele/Getty
Aldi has plans to open a store in Northeast D.C., but customers won't be able to use federal Women Infants, and Children program subsidies to purchase groceries there. The Gazette reports that Aldi doesn't accept WIC payments because the store sells Aldi brands only:
A spokeswoman for the ALDI grocery chain said federal government guidelines governing the Women Infants and Children program precludes them from taking payments from customers enrolled in the program because the guidelines require that those customers buy only certain national brands of food. The chain offers its own brands of food, the spokeswoman said.

… ALDI will be unable to offer WIC because of its reliance on its own brands, a spokeswoman for ALDI Inc. said.

"We have explored ways for the WIC program to work within our operational structure," spokeswoman Julie Ketay wrote in an e-mailed statement. "However, since the majority of our grocery products are under our own ALDI select brands and are not national brands, unfortunately, we simply don't qualify within the program's current guidelines."
WIC is meant support low-income women, children and infants, and part of the program includes food subsidies. Aldi is known for selling low-cost items, something the German-based grocer is able to pull off in large-part because it only sells Aldi brands. Its reputation as a cheap grocery store has led to some debate over the type of clientele that would be attracted to the D.C. store, which is being built in a gentrifying area. But those using WIC subsidies may find themselves patronizing the nearby Safeway instead.