Latest Government Job Cuts May Hit African Americans Hardest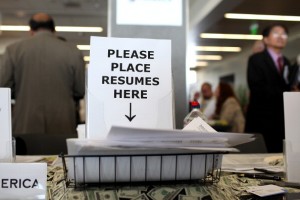 Justin Sullivan / Getty Images
The latest jobs report released Friday shows that unemployment has risen from 9.1 to 9.2 percent, with government jobs getting the most cuts. And such public sector losses disproportionately affect African Americans, given that a larger percentage of working black adults hold government jobs than working white or Hispanic adults [PDF].
June saw the loss of 39,000 government jobs. And the June unemployment rate for whites was 8.1 percent; for blacks, it was 16.2 percent; and for Hispanics, 11.6 percent. The huge public sector losses may be contributing to the disparity in unemployment rates, reports Huffington Post's Janell Ross:
The loss of government paychecks erodes one of the great equalizing forces at play in the American economy for more than a century. A government job has long offered a pathway for African Americans to sidestep discrimination that has impeded progress in the private sector, where social networks often determine who has a shot at the best jobs, say experts….

"Many of the black people you don't hear about on the news, the black people who own homes, who can afford to send their children to college and have modest savings, many of them worked for some branch of government before the recession began," said Steven Pitts, a labor economist at the University of California, Berkeley's Center for Labor Research and Education. "There is good reason to be very concerned about what will happen when this work disappears."
D.C.'s unemployment rate was 9.8 percent in May. But the rates differ ward-by-ward [PDF]. The District's poorest and nearly all-black wards saw May unemployment range between 16.8 and 24.9 percent. Conversely, the city's wealthiest, and whitest, ward saw a May rate of 2.6 percent.